So far 2015 has not found me with my nose in a book as much as I would like. I blame having a very active toddler. And Global Warming. BUT! I do have some recs and things I'm loving, so allow me to give you an update.
Book I'm Currently Reading
The Shark Curtain by Chris Scofield
So Chris is an agency sister of mine. And really, Team Howland is one, big, happy (if not a little neurotic) family. So naturally I had to pick this book up. We are passing a copy around to all the agency sibs, and we're all making notes in the margins. Eventually we will send it to Chris and she can see what we think. I'm gonna be honest, most of the times my comments are "This is hilarious/haha/love it," or "this is heartbreaking." I'm still reading this, but trust me, I never want to put this down.
Current Audiobook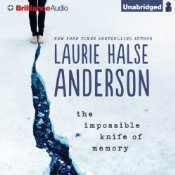 The Impossible Knife of Memory by Laurie Halse Anderson
Obviously she's a killer storyteller. The romance in this one is very Eleanor & Park to me, which, if you haven't read that book, is high praise. I'm only about halfway through this one, but the language is great. It's quiet and soul-searching and unflinching. The characters are dealing with traumatic pasts and trying to recover. The compassion that Anderson writes with is amazing.
Audiobook I'm still obsessing over
The Scorpio Races by Maggie Stiefvater
This one is one of my favorite books. And normally, I try and listen to new books on CD so I can maximize new book consumption, but I heard time and time again how killer this audiobook is. And OMG, it so was. And not just because I have a major crush on whoever voiced Sean Kendrick, whom I had a crush on already. Also, the brilliant music from the book trailer (written and played by the author herself.) Highly, highly recommend.
Book I'm Reading to my kids
In My Heart: A Book of Feelings by Jo Witek, Illustrated by Christine Roussey
This is hands down the best kids' book I've read about feelings. The illustrations are colorful, sparse and whimsical. Each spread describes the way a feeling feels, like physically and emotionally. And I'm just a sucker for a good die-cut.
Book I Keep Thinking About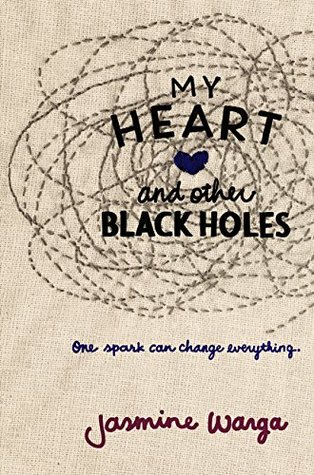 My Heart and Other Black Holes by Jasmine Warga
I was so excited to read this book for two big reasons. 1. It deals with depression in a real and honest way, and the world needs as many honest stories about mental illness as possible. 2. I met Jasmine at the NoVA Teen Book Festival and she was lovely! This book design is also straight up gorgeous. I keep thinking about this book. Really. It was so real to me. I still feel like these characters are people I know. Please read it and get to know Aysel and Roman.
A List of Other Books
Other books I've read recently that were awesome:
All The Bright Places by Jennifer Niven (seriously, I could write an entire post on how wonderful it's been to correspond with the author and discuss mental health stories)
Writing Down the Bones: Freeing the Writer Within by Natalie Goldberg This one was a Christmas gift from my dear brother-in-law. It has little meditative chunks of advice and exercises, so I'm reading just a bit at a time. A lot just about putting pen to paper and allowing yourself the freedom to just write.
Sure Signs of Crazy by Karen Harrington I wrote about her other book, Courage for Beginners, here. This one was equally as good. It was a really lovely middle grade read.