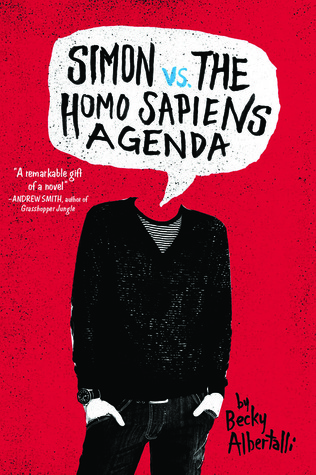 I have a stack of books in my TBR pile. And, yet, for some reason, on a whim this weekend, I picked up my kindle and started devouring SIMON VS. THE HOMO SAPIENS AGENDA by Becky Albertalli.
Now, I could be annoyed that this book would not let me put it down, because, honestly, I had a lot of stuff to do this weekend, but I'm not. I'm so not. Because this book just filled me with smiles.
Things to love:
1. The emails. Simon has an online relationship with another gay student at his school. Only he doesn't know who he is. And pretty soon, those emails are all Simon can think about. ME TOO, SIMON!
2. Diversity. This book checks a lot of the diversity boxes. But I thought what was so cool about this book is that it features a kid on the edge of coming out. He has a supportive family. He's got great friends. He knows it probably won't be a deal-breaker with any of them. But it still scares the shit out of him. It was so very real to me.
3. The friends. Simon's friend Leah is already in my Hall of Fame of secondary characters. She's wonderfully sensitive and hilarious and tough. But, really, all of Simon's friends and his sisters and his parents were so real and complete to me.
4. The guessing. This one's an offshoot of the emails, but I had to know who Simon's penpal was. I had to. And once I had a guess, I was rooting so hard that I was right.
5. The ending. Obviously I'm not going to speak too much on this point. Because I want you to read it and fall madly in love with this book also.
I'm only sorry that it doesn't come out until April. Darn it! I've already told so many friends about it. But trust me, this is one you want on your TBR list. It was so freaking great.